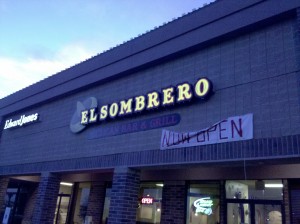 Friend Kelly said there was a new restaurant in the Dillions strip mall on West Battlefield road.  My wife and I were driving by at dinner time the other night and discovered it was Springfield's newest Mexican place call El Sombrero.
There were only a couple of tables occupied when we arrived and we were seated next to the front window.  Drink orders were made, chips & salsa was delivered and we started in looking at the menu.
The menu is typical of most Mexican places in town – probably 100 choices of the standard fare – burritos, enchiladas, fajitas, combo meals as well as some  house 'specialties'.  A homemade sign at the cash register advertised $1.99 margaritas (with a limit of 3), unfortunately we get to test whether the limit is actually enforced.   My wife settled on the chicken fajitas ($9.99) and I picked what I usually order at a new Mexican place – the pork – carnitas in this case ($8.50).
The chips and salsa were pretty standard.  The salsa, delivered in the typical salsa carafe, tasted fresh and wasn't spicy – I forgot to ask if they have a spicier version.
My wife liked her fajitas.  I had a couple of bites and found them to be seasoned pretty well with a lot of chicken and onions.  It was a good sized portion and she was able to make 3 meals out of it.
My carnitas were a bit of a surprise.  When the plate arrived, I found several very large chunks of pork looking at me – I'm used to smaller pieces.  Carnitas can be somewhat fatty and these were no exception.  While my friend Steve thrives on pork fat – I like my meat leaner.  Fortunately the pork was tender and the fat easy to separate from the meat.  The meat itself was tender and tasted pretty darn good – I was glad I made this selection.  This pork would be even better if paired with a nice green or red chili sauce.  There was one other nice touch to this dish – a whole roasted jalapeno pepper on the side to spice things up.  The rice and beans were pretty good perhaps a bit better than average for our town.
Service was good during our visit with our drinks staying full and our meals delivered quickly.
Everything is new inside.  The dining room is sectioned off into 3 areas.  Décor is nice and light with flowers & fruit artwork on the walls.  There weren't any cartoon peppers, piñatas, sombreros or other south of the border type of items around so there are few cues that you are in a Mexican restaurant.  The upholstery on the booth seats are a strange color green though.
Overall we both enjoyed our meals at El Sombrero.  In the BWAD 3 tier Mexican Restaurant rating system (1 is best – 3 is well, not best) – El Sombrero earns a solid tier 2 rating – perhaps even on the upper end of tier 2.
1529 West Battlefield Road – (417) 887-8810