Warning
: mysql_get_server_info(): Access denied for user ''@'localhost' (using password: NO) in
/home/bobswh5/public_html/wp-content/plugins/xml-google-maps/xmlgooglemaps_dbfunctions.php
on line
10
Warning
: mysql_get_server_info(): A link to the server could not be established in
/home/bobswh5/public_html/wp-content/plugins/xml-google-maps/xmlgooglemaps_dbfunctions.php
on line
10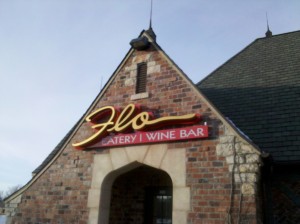 Seems the Tan brothers are at it again.  This time branching out of their Asian and Pacific Rim comfort zone (5 Spice, Ocean Zen, Yum Yum Bowl) and into the trendy bar scene with Flo Eatery and Wine Bar.  Last Saturday, my wife and I decided on an early evening outing to Flo to check things out.
We arrived around 5pm (place opens at 3pm – so not a place for lunch) and found the parking lot with just a few cars.  We were pretty surprised as generally it is hard to find any place to eat without a wait on Saturday evening.
Upon walking in – you immediately notice the décor.  I was seeing red – everywhere.  Red booths, red chairs, red drapes hanging from most of the walls.  If you don't like the color red – well, you won't like it here.  There are several lounge areas with couches, low tables and stools that look like giant red marshmallows.  There is seating at the large bar as well as a scattering of tall and regular tables. We settled in at a tall table to check out the menu.
Following the 'trendy' bar scene formula, the menu at Flo focuses heavily on appetizers (I think the trendy word is tapas).  There are a few standard bar items (like wings), but most offerings are more upscale in nature and definitely American in selection.  The appetizers are also plated to encourage sharing.  There are only a couple of entrée-sized items.  There is also a sushi menu – it is, after all, a Tan establishment.
We decided on the following:  Caesar Salad for me ($7.95), Baby Greens and Apple Salad for my wife ($7.95), and to share, a Spicy Tuna Roll ($4.50) and Rosemary Garlic Grilled Beef Skewers with mashed potatoes ($12.95).  All of these were from the appetizer menu.
The Caesar Salad was lightly dressed with good flavor.  Instead of traditional croutons, there were 3 slices of crunchy baguette peeking out from under the lettuce which was a nice touch.  My wife reported that her apple salad was good – it came with a balsamic dressing.
The spicy tuna roll was just ok – there wasn't anything particularly spicy about it and it wasn't artfully made – it was however inexpensive compared to everything else.
The Grilled Beef Skewers (3 sticks worth) were tender and cooked to a nice medium temperature.  Some of the pieces had more rosemary flavor than others.  The mashed potatoes and gravy were pretty good.  The mushrooms on the side were especially tasty.
We both decided that the food was overall pretty good – but we also thought it was a bit over priced.
Besides 'Eatery' the name also includes 'Wine' and 'Bar'.  I think that is the real focus of Flo.  Our server mentioned that Flo has a one of a kind (at least to Missouri) wine dispensing machine.
This machine is supposed to allow the offering of many different wines by-the-glass with each of them being just as fresh as when the bottle was first opened.  Indeed the wine menu is pretty large and there are many choices available by-the-glass.  Prices vary of course, but they offer 1, 3 and 6 ounce portions which would allow one to try several different wines without breaking the bank.  My wife ordered some kind of red wine.  I don't know about or care for wine, so excuse me from knowing what kind or vintage or anything about it.  She said it was good though (was that helpful?)
I also noticed a vodka wall with what looked like 20 or 30 different vodkas available.  The drink menu is large and features many different types of martinis.  I, of course, stuck with diet coke.
Service was top-notch on our visit.  Our server was very friendly – our food arrived quickly and we were checked on often.
There are drink specials every day – and the drink prices during happy hour seemed pretty reasonable.  It's not really a dinner place, and I'm not trendy which means Flo will not make it onto my regular list of go-to places.  But hey if you are trendy and have the cash – Flo should probably make it on your list.
2925 East Battlefield Ste. 105 – (417) 886-0356