Warning
: mysql_get_server_info(): Access denied for user ''@'localhost' (using password: NO) in
/home/bobswh5/public_html/wp-content/plugins/xml-google-maps/xmlgooglemaps_dbfunctions.php
on line
10
Warning
: mysql_get_server_info(): A link to the server could not be established in
/home/bobswh5/public_html/wp-content/plugins/xml-google-maps/xmlgooglemaps_dbfunctions.php
on line
10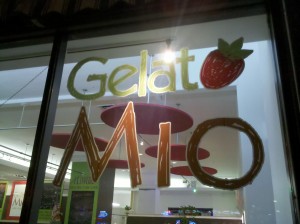 Gelato?  Springfield?  What???  Ok, so maybe it isn't all that weird – but there is a new rival in the ice cream / frozen yogurt / frozen custard scene in town.  Located just east of Park Central Square is an unassuming spot that looks more like a coffee house than an ice cream place.  The menu includes – well Gelato – which turns out to be Italian-style ice cream and sorbet.  Don't bother asking for a concrete, Sunday, mixin's or other ice cream fanciness – all you get here is the cold stuff in a cup with a tiny little spoon.
At any one time there are 18 flavors out in the case.  Free samples are encouraged and my wife and I took advantage of that to sample at least 8 or 9 different varieties.  I ended up with a scoop of rocky road and chocolate peanut butter sharing a two scoop cup ($4).  My wife got dark chocolate along with an espresso something in her cup.  Each cup was decorated with a tiny waffle cone.
Well, turns out gelato is pretty darn good.  It is richer than regular ice cream and has a thick, sticky texture.  The flavors are very intense.  I don't think they are created with chemicals – but rather the real stuff – chocolate, espresso, peanut butter, etc.  The tastes I had of the fruit gelato made me believe that only real fruit is used to create those flavors.  On a second visit I got the espresso gelato that had chocolate coated coffee beans mixed in – that was an 'espressolly' good combo.  On a third visit I got a combo of bananas foster and double dutch chocolate – can't go wrong with bananas and chocolate.
There are several tables inside to sit and enjoy your gelato as well as a large comfy sectional sofa seating area.  In the back is an art gallery that was featuring a local artist.  On nice days a couple of tables are outside to enjoy the weather.
Also, on our visit, the owner explained that they were starting to sell coffee drinks heading into the fall season.  Not just regular coffee – but coffee with the espresso gelato added in ($3).  For some reason we got a free cup of the coffee during our visit and it was good.
The gelato at Gelato Mio is shipped in from Chicago.  The story we were told is that an Italian family in Chicago is their source and has been making this goodness for over 20 years.  The owner also said that this particular gelato brand is sold in Vegas at Caesar's Palace.
As you probably have guessed from my several return visits, I particularly like this Gelato stuff.  I now have another good reason to head downtown.
207 Park Central East – (417) 766-9383
Link to Website (with menu)