Warning
: mysql_get_server_info(): Access denied for user ''@'localhost' (using password: NO) in
/home/bobswh5/public_html/wp-content/plugins/xml-google-maps/xmlgooglemaps_dbfunctions.php
on line
10
Warning
: mysql_get_server_info(): A link to the server could not be established in
/home/bobswh5/public_html/wp-content/plugins/xml-google-maps/xmlgooglemaps_dbfunctions.php
on line
10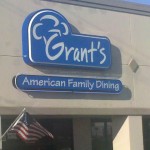 UPDATE
I had promised my wife a 'nice' dinner after bailing on her at lunch, and I hoped that a trip to Grant's would make up for it.   I've driven by Grant's several times recently and saw that they appeared to be fairly busy so I was hopeful for a better visit than last time.
We arrived around 5:30pm and there were just a couple of tables full.  We were seated quickly and got our drink orders in.  Looking over the menu, it doesn't appear to have changed much.  I had made up my mind that I would avoid the pizza and Mac & Cheese.  There were two specials this evening – a pan seared trout with a cream sauce and chicken fried chicken.  My wife chose the trout special with mashed potatoes and veggie of the day.  I was in the mood for a burger so I chose the Big Daddy Burger with the veggies.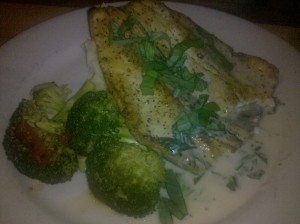 My wife said she really liked the trout.  It was cooked and seasoned well and the cream sauce was nice and light and did not overwhelm the fish.  She also liked the way the skin was easily separated from the meat.  She didn't much care for the vegetables which turned out to be some broccoli trees and a few slices of roasted red pepper.  The broccoli was undercooked and almost raw – and therefore was very crunchy.  The roasted red peppers were ok – but appeared to be out of a can or jar.  She liked the mashed potatoes.
My half pound "Big Daddy" burger ($8.50) was pretty good.  It was served on nice home-made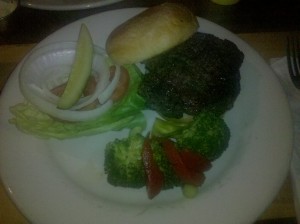 style bun with lettuce, pickle and tomato on the side.  I ordered the burger medium and it was cooked correctly.  It was nice to get a burger that wasn't dry.  It also was seasoned well – with something that was a bit spicy – I liked that.  I had the same broccoli issue as my wife.  I put the roasted red peppers on my burger which was a better place for them.
Service was pretty good on this trip without any of the issues from last time.  It was nice to see the servers looking out for each other – I got a couple of Diet Coke refills from another server who noticed my glass was nearly empty while he was walking by.
Except for the broccoli – we both enjoyed our meals.  If you look at the other comments – people seem to be divided about Grant's.  Grant's isn't making my list of 'must-go' places but I will probably make it back again to try something from the list of Italian entrées.
============================================================
Original Review – July 8, 2009
Grant's American Family Dining opened up in Ozark recently in the space formerly occupied by Angeli's (still sad about that).  I had dinner there recently with two of my sister-in-laws while in Ozark one evening.
The menu at Grant's is what they are calling "American" with pizza, pasta, sandwiches, and dinner entrées like chicken, pot pie, pork chops and a sirloin steak.  The wide-ranging menu has about only 6 or 7 items per category which I like to see.  I've found that often places with smaller menus can focus on making a smaller number of offerings exceptional.
The pizza was prominent on the menu – with a big headline about the dough being made fresh and hand tossed.  So I asked for a small with pepperoni, pineapple, onion and jalapeno.  My dinner companions choose the Macaroni and Double Cheese and the Pork Chops with Apple Sauce for their entrées.
When my pizza arrived it came out with one pretty serious problem.  The crust was undercooked.  There was no brown on the crust anywhere – not around the edges, not on the bottom and it tasted a bit raw and doughy.  I also thought that the sauce tasted too much of raw tomato with little in the way of those tasty Italian herbs.  When I brought this to the attention of our server he offered to take it back to cook it more – but I didn't want any more pizza at that point.  He went back to talk to the kitchen and came back with an explanation that the pizza oven had been turned off and they didn't notice it while cooking my pizza.  I don't know about you, but when I'm cooking pizza, I always look at the bottom of the crust to make sure it is done – something that wasn't done on this occasion.  Perhaps someone else will comment about what a properly cooked pizza at Grant's is like.
The Macaroni and Double Cheese was another disappointment – it was more like macaroni & cheese soup – the cheese sauce was thin and abundant and the macaroni just swam around in it.  Our server asked what we thought of the M&C and when we relayed our disappointment – he indicated that he has heard a lot of ho-hums about it as well.
The bright spot of our evening was the Pork Chops.  My dinner companion said that they were great – tender and full of flavor.  Perhaps she will post more about that.
Due to the issues with my pizza, I was offered and accepted a free desert.  I selected the apple pie based on the description of it being made with "secret spices and caramel baked in a flaky crust".  The pie filling indeed had a unique taste that none of us could put our finger on – it tasted pretty good.  The crust however was not the flaky one as described, it was thin and tough.  If it had indeed had the flaky crust as advertised, it would have been a really good pie.
Service was pretty good once it started.  After being seated by one of the two hostesses, we sat for quite a while watching staff running back and forth doing other things while the hostesses were hanging out about 3 feet away from our table.  After a bit of trying to get someone's attention, we finally made eye contact with a server who was standing around visiting with the hostesses and asked for someone to wait on us.  We ended up with a really nice guy as our server and service for the rest of the evening was pretty good.
The décor of Grant's hasn't changed too much from the Angeli days with the exception of a new wall that has been put up to separate the dining room from the bar.
There is some promise at Grant's if the pork chop is any indication.  They had been open about 3 weeks when we visited so I will probably be back to try something else.  I'll probably stay away from the pizza in the future because even with a properly cooked crust the sauce was not to my liking and crust and sauce are what really make a pizza in my opinion.
1759 West State Highway J, Ozark – (417) 581-6770
http://www.grantsrestaurant.com (menu is online)