Warning
: mysql_get_server_info(): Access denied for user ''@'localhost' (using password: NO) in
/home/bobswh5/public_html/wp-content/plugins/xml-google-maps/xmlgooglemaps_dbfunctions.php
on line
10
Warning
: mysql_get_server_info(): A link to the server could not be established in
/home/bobswh5/public_html/wp-content/plugins/xml-google-maps/xmlgooglemaps_dbfunctions.php
on line
10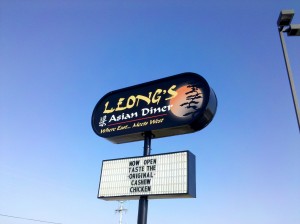 I had lunch today at the new Leong's.  There has been plenty of info recently in the media about the Leong family history and fame as the creator of we all have come to know as Springfiel Style Cashew Chicken, so I won't go into any of that here.  I will say that the original Leong's Tea House was a favorite of my wife's family.  I have great memories of many big group meals at the round table with the Lazy Susan full of Chinese food spinning around – but I digress.  This is all about the new Loeng's Asian Diner.
I think the name should maybe be changed Leong's Asian and Diner because if you look at the lunch menu you will see both the original Cashew and Sweet & Sour chicken (and a few other Asian dishes) along with diner lunch classics like burgers and Philly Cheese Steaks.  The lunch menu also lists a set of daily specials (one for each day except Sunday) – but our server said the daily specials aren't available just yet.  The daily specials were all 'diner' choices like pot roast, chicken fried steak, etc…  Their Facebook page has the full lunch & dinner menus posted.
I'm going to keep my comments mainly to the food on this write-up.  The day of my visit, they've only been open 3 days and the kitchen and wait staff are obviously still figuring things out – so comments about service and such wouldn't be fair.
So on to the food.
My dining companions made selections of Cashew Chicken and Sweet & Sour Chicken (both $6.99 + .50 for all white meat).  Knowing I would be able to sample theirs I decided to go the 'diner' route and chose a burger based on our server's recommendation.  We ordered some Crab Rangoon ($5.99) for an appetizer to share and my wife ordered a bowl of hot and sour soup.  My wife and I also ordered an egg roll each – but they never showed up on the table.  Fortunately, they weren't on the bill either and as it turned out we really didn't need them anyway.
The 6 Crab Rangoon's arrived first.  (The picture only shows 3 as the first 3 disappeared from the plate before I could get my camera out).  The skins were tough and hard to bite through.  Not sure why that was – but I'll conjecture that they didn't make it out to the table as quickly as they should after leaving their hot oil bath.  The filling however, was excellent.  These had real crab (not krab) in them and you could actually taste the little crustaceans.  The filling was savory unlike the 'sweet' variety most other places have.  I liked the filling – if the wonton skins had been tender and crispy these would have scored a 10 with me.
My wife reported that the hot and sour soup had a good flavor (I snuck a taste and agreed) but she said it lacked the spicy heat she is used to.  It had some body to it with lots of goodies swimming around.
The Cashew and Sweet & Sour chicken was mostly largish chunks fried up in a light and crispy coating.  The chicken was tender and moist.  I thought Cashew sauce was a very good rendition with a mild flavor and a light consistency.  The Sweet & Sour sauce leans heavily to the sour side of the equation – it had a great tang to it which I enjoyed a lot.  This was a nice change from the overly sweet sauce most other places have.  The fried rice was disappointing.  It was mushy and overcooked.  It was like eating Uncle Ben's (well maybe not that good).  It did have some nice stuff tossed in – carrot, peas, onion & pork.  An issue of both chicken dishes was that there wasn't quite enough sauce drizzled over the chicken to go around.
My ½ pound burger with bacon, smoky cheddar and caramelized onion was very good.  The meat was hand pattied, the bacon was thick sliced and the onions were cooked just right.  The cook left just a little pink in the middle which avoided the dreaded hockey-puck-patty syndrome – overall a decent burger indeed.  The fries weren't very crispy being a fresh cut variety – as such they were just ok.  Even though this is a good burger – at $9.50 I didn't think it was $2 better than the $7.50 Full Ride at Grad School – especially when you consider the superior fries the Grad School offers.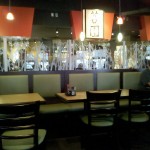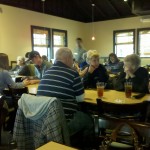 Inside, the basic layout of the place hasn't changed too much from the previous 2 incarnations (Charlie's Chicken and Tortilla's – I still miss Tortilla's a lot).   They have managed to erase the previous décor with a simple and elegant interior of light green, red and black.  There is a cool glass topped bamboo-themed partition separating the dining room from the bar area.  The occupancy sign says 99 people max – but that must include the wait staff as well.  The dining room is not all that big and given the hype about the opening – I expect there to be long waits to get in.  We arrived a little after 1pm and had a 20 minute wait.  When we left about 2:30 there were still people waiting for a table.
Finding a place to wait will be problematic during busy times – there is a very small area inside by the reception desk and then some space between the inner & outer doors.  Add people coming and going and things get pretty crowded.  I think they should look at some buzzer coaster things if they continue getting the crowds I saw today – that way you can wait outside when the weather is nice or in your car when it isn't.
The other thing that I found curious was the pay-at-the-register-when-you-leave process.  I wonder if trying to emulate the 'diner' aspect of the place may have led to that decision, but it is absolutely the wrong thing to be doing in my opinion.  I don't expect or want to wait in a line to get out of a restaurant where the burgers cost $9.50 and you can order a $26 filet & lobster dinner.  I hope they reconsider that decision and let one pay at the table.
So, is Leong's an Asian restaurant, a diner or maybe something different?  Well, there are some diners in town that serve sweet & sour chicken – usually without a lot of success.  There aren't any Asian places I'm aware of that serve $19 Ribeyes, Chicken Fried Steak or Pasta.  My guess is that Leong's really wants to be an up scale American food restaurant – but they really couldn't have that name in this town and not serve Cashew Chicken and some other Asian favorites.
I will return for dinner after they've been open a while and report back on that.
1540 W Republic Rd– (417) 887-7500