Warning
: mysql_get_server_info(): Access denied for user ''@'localhost' (using password: NO) in
/home/bobswh5/public_html/wp-content/plugins/xml-google-maps/xmlgooglemaps_dbfunctions.php
on line
10
Warning
: mysql_get_server_info(): A link to the server could not be established in
/home/bobswh5/public_html/wp-content/plugins/xml-google-maps/xmlgooglemaps_dbfunctions.php
on line
10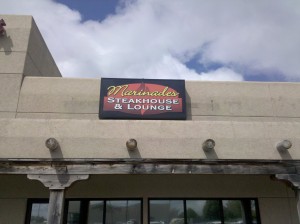 This is a review of lunch at Marinades – as of this date they have been open about a week – but only on the "Lounge" side.  The sit-down restaurant side doesn't open until May 13th.
Danny, Steve and I met for lunch this week at Marinade's.  There are two sides to the place – the lounge side and the Steakhouse side.  On our lunch visit only the lounge side was open.  The menus on the two sides are different – with the lounge menu consisting of several appetizers such as wings and sliders and mostly sandwiches for entrées.
We had to wait for Danny, so Steve ordered an appetizer of Rueben Rolls.  We were told that all of the appetizers are made in-house (except for the mozz sticks).  I'm
not a big fan of corned beef and cabbage – but decided to try them anyway.  I honestly didn't taste much of the ingredients because doughy taste of the wrapper overwhelmed the filling.  The outsides also weren't very crispy and the rolls themselves were smallish.  We all thought that these weren't a very good value at $8.
For lunch I picked the Philly Cheese Steak ($6.95), Danny selected the Reuben ($7.95) and Steve chose the Build a Burger ($7.95) which you can select up to 2 toppings – he picked bacon and cheese.  We all ordered fries as our sides – but chips and fruit were also options.
I must say that when our plates arrived – everything looked really good.  Danny's Ruben (served on a pretzel bun) was massive.  Steve's burger had that home-pattied look to it – and the beef on my sandwich had that nice dark grilled look to it.
So here is the rundown.  My Philly was great.  The beef was grilled perfectly with onions & a few mushrooms and was still moist.  The cheese was melted over the top of the meat and there was the perfect ratio of cheese to beef.  The fries were really crispy due to the coating on them.
Danny found something missing on his Reuben – it came out without any 'Rueben' style sauce (the Thousand Island dressing type).  He asked about getting some sauce and at first the server brought back some ground mustard spread (that was already on the sandwich) before finally bringing back the right stuff.  We got the impression that the Rueben sandwich is not normally served with the standard 'Reuben' sauce.  I thought that was pretty strange since the Reuben Rolls did come with a side of the correct sauce.  After getting the sauce, Danny was much happier with his sandwich.
Steve's burger looked good – but he said it was overcooked and therefore dry.  There were some weird issues with his burger as the plate came out with just the burger and fries.  Most places give you a bit of lettuce, onion, tomato and sometimes some pickles.  When he asked about this the server went back and got a separate plate of the stuff.  I couldn't figure out if the plate of goodies was supposed to come out – but she had planned on a second trip to do so – or whether one has to ask for other toppings.  The other issue with the burger is that the menu stated that you can select one or two toppings from the list on the menu.  When Steve got his bill – he noticed that there was an extra .50 cent charge for the bacon on his burger.  The menu didn't state that the bacon was extra and I thought that was a rip-off.  Steve didn't push the issue.  Steve's burger was not a good value for the $8.50 he spent on it.
Service was just a bit spotty using my diet coke refill criteria as my glass sat empty several times.  The soda glasses were sort of smallish which was part of the trouble there.  We were helped out by at least 3 different servers during our meal – so we weren't being ignored.  Everyone that helped us was very nice and helpful.  We were asked about a take home soda as well – which is always a plus for me (of course I accepted).
I found out that Marinades is a joint venture between the owner of Sky Box and the owner of a local restaurant supplier.  The remodel of the space previously occupied by Pizza Plus and the Longhorn Grill is very nice.  Both the dining side and lounge side are dark with black furnishings and ceilings.  The lounge isn't a sports-bar but there are TV's up high along the walls.  The lounge side only has tall tables while the dining side is low tables with white table cloths.  There aren't many tables on the dining side.  The restroom was clean.
We got a peak of the dinner menu which will available when the dining room opens on May 13th.   The menu has mainly steaks – each available with one of several different marinades.  Besides the marinades, you can also select from one of several different sauces to finish your steak with.  Prices look to be on the upper end – with most of the steaks over $20 – I did see a petite filet for $14.  I'll be back for dinner sometime to report in more detail on this.
So lunch was a mixed bag – I really liked my Philly and would rate it among the better ones I've had.  Danny ended up with something he liked – but had to work to get that.  Steve's hamburger experience wasn't very good on a number of fronts.  I'm not sure how much of this may be related to the place being open only a week – I'm sure the staff and kitchen are still working out the kinks – but I don't think everything we experienced can be explained away by the fact they are new.  I will make it back for dinner and try that out.
One major plus that Marinades has is that it is a Breath-Easy restaurant – even on the lounge side.  It is very unusual for this town to have your bar area non-smoking.  If you are looking for a place to get an adult drink (or two) without the stale smell of smoke – Marinades will be a great place to try out.
1645 West Republic Rd