Warning
: mysql_get_server_info(): Access denied for user ''@'localhost' (using password: NO) in
/home/bobswh5/public_html/wp-content/plugins/xml-google-maps/xmlgooglemaps_dbfunctions.php
on line
10
Warning
: mysql_get_server_info(): A link to the server could not be established in
/home/bobswh5/public_html/wp-content/plugins/xml-google-maps/xmlgooglemaps_dbfunctions.php
on line
10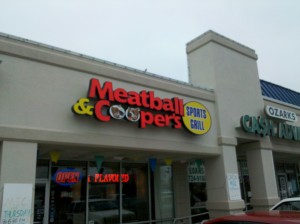 Meatball & Cooper's got onto my radar due to a coupon I found in one of the local papers.  The top of the coupon proclaimed  "Lookin' for Home Style Cookin'!" and had pictures of a burger and meatball sub.  It looked like the perfect place for lunch, so I made plans to meet my friend David.
I arrived about 11:45 and there were two other tables occupied.  I took a seat near the oxygen bar (more about that later) and started looking at the menu while I wanted for David to show up.  The menu (viewable on the website) has an assortment of the typical appetizers and includes a couple of non-typical items: meatballs with a choice of sauces and something called the Flying Meatball (meatballs & wings).   When David arrived it wasn't a hard sell to get him to share a Flying Meatball ($7.95).  The meatballs come with a choice of 5 sauces (chipotle BBQ, marinara, sweet & sour, honey mustard or garlic parmesan).  I asked which sauces were made in-house and was told only the BBQ was, so that is what we picked.  The wing sauce comes in mild, medium or hot (all from a bottle) – we picked hot.
The rest of the menu includes burgers, dogs, pizza, sandwiches and fried catfish.  There was an electronic sign in the window that advertised daily lunch specials (as did the coupon).  When we asked about the day's special we were told they didn't have a lunch special that day – I thought it was odd but I didn't feel like asking why.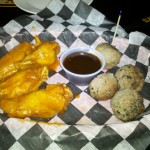 The Flying Meatballs arrived fairly quickly and consisted of 4 wings and 4 meatballs and a small side of the chipotle BBQ sauce.  The wings were average and not particularly spicy.  The meatballs tasted ok and the BBQ sauce wasn't anything special.  I asked if the meatballs were homemade and was told no – but that they 'doctored' them up a bit.  By the way they looked, I think there was some Italian seasoning sprinkled on them before or after cooking.  We were told the meatballs served with the spaghetti were homemade, but if so, why use pre-made ones in the other dishes?  Also, I thought the price was too much for 4 wings and 4 ready-made meatballs – especially when you consider that most of the sandwiches cost less than the $7.95 this Flying Meatball set me back.
For lunch I decided on the bacon cheeseburger ($6.45) and David picked his usual – a Philly Cheese steak sandwich ($7.50).  The Philly had a cheese option of Swiss or nacho cheese sauce.  We asked about the nacho sauce and were told it was from a can – but 'real good'.  David selected nacho sauce based on that glowing recommendation.
As you can see from the picture they were very (actually too) generous with the canned cheese sauce and David scraped most of it off.  He also said that there wasn't anything particularly great about the 'really-good' nacho sauce.  The rest of the sandwich he said he enjoyed – the beef, onions and peppers were all grilled up well and there was lots of meat.  He said he would order it again, but next time would ask to have it topped with the white queso sauce that is available on the appetizer menu instead of the canned, yellow substance they called nacho sauce.
The 1/3 lb cheeseburger was decent but certainly not in the same league as Bair's.  The patty was a frozen style but it was cooked properly and wasn't hocky-puck-ish.  I asked for some shredded Colby-Jack instead of the standard American cheese and it was nicely melted to the top of the patty.  The bacon was good and crispy and the tomatoes were nice & red which was a nice surprise given the season.  The fries were average.
The décor is what I would call a cross between dog & sports.  There are a couple of bull-dog murals which I understand are the owner's dogs – who just happened to be named Meatball and Cooper.  There are some TV's on the walls for watching that big game and there is some sports stuff scattered here and there to round out the theme.  This place is not a bar – so no alcohol and there is no smoking as well (good for them!). They do have an "oxygen" bar in the back corner so it is probably a good thing there is no smoking.  Having an oxygen bar is kind of strange and I didn't see anyone belly up to it for a hit of some pure O2.
Service was pretty good – we were checked on frequently and my diet coke did not go empty.  One thing I would mention is that it was very cold in the dining room when we arrived.  Others that were there all had coats on.  I mentioned this to the server who didn't seem to notice the temperature problem (he had a sweatshirt on).  He went to check and returned saying that the heat had been turned off.  It warmed up after that was corrected.
I would say that the bottom line on Meatball and Cooper's is that I felt letdown on several fronts.  I understand now that "Meatball" refers to the dog and not the food – but I would think having some great meatballs would be something to strive for given the name.  The promise of "Home-style Cookin'" was not fulfilled with most of the items seeming to be from cans, bottles or the freezer.  On the plus side, the sandwiches we had were ok except for the nacho cheese/philly thing.  I appreciate the non-smoking atmosphere, but that oxygen bar concept is kind of weird.
218 N. Massey Blvd, Nixa (Behind McDonalds) – (417) 725-9598