Warning
: mysql_get_server_info(): Access denied for user ''@'localhost' (using password: NO) in
/home/bobswh5/public_html/wp-content/plugins/xml-google-maps/xmlgooglemaps_dbfunctions.php
on line
10
Warning
: mysql_get_server_info(): A link to the server could not be established in
/home/bobswh5/public_html/wp-content/plugins/xml-google-maps/xmlgooglemaps_dbfunctions.php
on line
10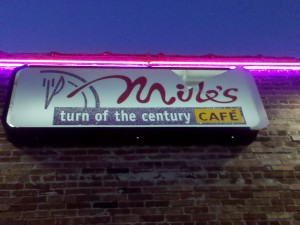 My wife and I planned a nice evening out visiting downtown for a meal and a movie at the Moxie.  We wanted to eat outside since the weather was nice and decided that Mille's would fit the bill as they have some outside seating.
Once we got downtown we discovered that Mille's was hosting their 2nd Annual Grape Harvest Festival.  They had blocked off the parking lot next door, setup a stage, tables & chairs and a band was playing when we arrived.  We didn't want to go to the festival so we entered through the front door.  We were seated right away at one of the outside tables.
The 'Turn of the Century' moniker gave me a vision of a home cook'n country-style place  – however, don't be misled.  The menu at Mille's has no hint of fried chicken or fried pork tenderloin.  Their website says they are Springfield's only 'Urban Casual Café'.  I'm not sure what that means exactly but the food selections are certainly on the fancier side and include appetizers like Fondue, Mango BBQ Shrimp and entrées like Chipotle Pork Chops, Sesame Ahi Tuna, and Mahi Mahi Ala Orange.
We ordered drinks and a roasted red pepper hummus appetizer ($6.95) and started to study the menu.  My wife settled on Asian Chicken Salad ($9.95) and since I wanted red meat – I picked the Cherry Port Petite Tenderloin ($19.95).
The drinks took a while to appear but the hummus came out pretty quickly.  The hummus was chunkier in texture that you typically see and it had a good taste.  There were plenty of pita points to go along with it.
Our dinners took a really long time to get to the table.  I'm guessing the activity of the Grape Harvest Festival was having an impact on the kitchen and wait staff.  When dinner finally arrived the plates looked pretty good.  My wife said her salad had lots of fresh greens, and extras like celery and mandarin oranges.  She did say the dressing was oily and was hard to get it to mix.  The salad also arrived with fried chicken instead of the requested grilled chicken.  She didn't send it back as no telling how long it would have been until a fresh salad arrived.
My tenderloin was described as goat cheese encrusted with a cherry port reduction.  The goat cheese wasn't 'encrusted' onto the meat but instead was dolloped on top of the three tenderloin slices.  This turned out to be good as I didn't like the goat cheese at all and was able to remove it easily.  I'm not sure I've had goat cheese before, but this version was quite musty and there was a lot of it.  The cherry port reduction had a lot of cherries and it was piled over the top of everything.  I did like the sauce.  It was a bit sweet and went well with the beef.  If you like this type of goat cheese, I'm sure you would have loved the combination of the cheese & sauce.  The beef itself was overcooked – it came out well instead of the requested medium.  The garlic 'smashed' potatoes were pretty good and the veg of the day was asparagus which was fine.  Given the goat cheese and the overdone beef, I would have been happier with a different choice of entrée.
As I mentioned above, service was very slow and not just because of the kitchen.  There were long periods of time when we didn't see our server.  My water glass went empty at one point for 15 minutes.  It took 10 minutes to get our check after our server said she would have it right back.  Again, I think the festival had a role in the service issues.  After the hour and a half we were there I was getting concerned about making it to our movie on time.   There is one other thing worth mentioning, we saw all of the other tables around us with a bread basket.  We didn't get one.
The décor is similar to other downtown venues perhaps a bit more on the bar/grill side than the fine dining side.
Overall, our meals suffered from a couple of mistakes (fried instead of grilled chicken and overcooked beef) and the service was really bad on our visit.  I hope this was an artifact from the festival.  If this service problem happened on a regular night – there is no way I would consider returning.  There are several other things on the menu that sounded good so I'm likely to give Mille's another shot at some point.
313 S. Jefferson – (417) 831-1996
Link to Website (with menu)