Warning
: mysql_get_server_info(): Access denied for user ''@'localhost' (using password: NO) in
/home/bobswh5/public_html/wp-content/plugins/xml-google-maps/xmlgooglemaps_dbfunctions.php
on line
10
Warning
: mysql_get_server_info(): A link to the server could not be established in
/home/bobswh5/public_html/wp-content/plugins/xml-google-maps/xmlgooglemaps_dbfunctions.php
on line
10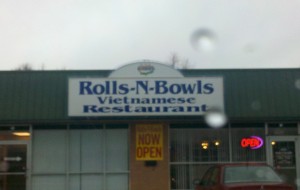 Earlier this week I noticed a sign for a new restaurant on West Sunshine that I decided needed a visit.  Rolls N Bowls (RnB) is the name, Vietnamese is the game.  RnB is in the spot where Little Saigon used to be.  I did a little checking there was another name for this same spot for a little while last year – Blue Saigon.  I'm guessing these are new owners but I never went to Little (or Blue) Saigon so I can't be sure.  What I do know is that RnB joins Bambu to offer Springfield a second option for Pho and other Vietnamese goodies.
Today's lunch outing was with my buddy Steve who also enjoys a good Pho now and then.  There were only two other tables occupied with we arrived and I was directed to sit wherever I wanted.  The menu seemed to include the normal Vietnamese favorites including several Pho selections, a few plate-type entrées and of all things a sandwich on a French baquette roll.  The sandwich had shrimp on it.  I don't really like shrimp much, so I decided I better skip that one.
I ended up ordering a bowl of N4 aka Beef & Meatball Pho ($7.49).  Steve selected B1 which was a bowl of noodles (no broth), grilled pork and an egg roll ($7.49).  We decided to split a spring roll ($3.50) so we could get the full roll and bowl experience.
The two spring rolls came out quickly and we were also brought individual bowls of peanut sauce (which avoided a double-dipping scenario).  The spring rolls had noodles, some pork, fresh herbs and 3 shrimp nestled inside a soft wrapper (these are not fried).  We both decided that the rolls were ok – but that we've had better rolls elsewhere.  They didn't have the fresh herb pop that other places have.  The peanut sauce was good and did a nice job of covering up the shrimp flavor.
My Pho come with a small side of bean sprouts, fresh jalapeno slices, a lime slice and some fresh leafy herb (not sure what exactly, but it tasted somewhat like black liquorice).   I added the spouts, a couple of leaves from the herb and the jalapenos to my bowl along with a bit of hoisin sauce from the table.  Doctoring up Pho is part of the 'Phun'.  The chicken based broth was very good and a bit spicy (maybe due to the jalapenos).  The thin slices of beef had some good flavor and were tender.  The meatballs were some kind of mystery meat.  They had a strange, dense consistency and while didn't taste bad – were just sort of weird.  I'll be skipping those next time.  After locating a knife to cut up the noodles in the bottom of the bowl I was able to make a good dent in the large serving.  One thing both Steve and I thought odd was the extraordinarily large spoon that was given to us to eat our meal with.  It is easily twice as large as a normal table spoon.  I used a fork to get to the solids and the ladle (I mean spoon) to sip the broth.
I think Steve's impression of his meal was good – he emptied his bowl completely.  He did mention that the egg roll was especially good.  I had a piece of his pork and it was tender and tasted good.
Inside the place was bright and clean.  The new paint job looked good.  The dining room is plain without a much in the way of decoration – mainly a big open space with lots of tables.  There is a TV on one wall which was tuned to a news channel while we were there.  The restroom was clean.
Service was pretty good.  My diet Pepsi was always full and our food came out quickly, but there were few other diners during our visit.
We decided that we liked our food.  Prices are just a bit less than Bambu, but I don't think the portions are quite as large either.  BnR did a good job of satisfying my need for a Pho Phix.
1402 W Sunshine St – (417) 869-1488