Warning
: mysql_get_server_info(): Access denied for user ''@'localhost' (using password: NO) in
/home/bobswh5/public_html/wp-content/plugins/xml-google-maps/xmlgooglemaps_dbfunctions.php
on line
10
Warning
: mysql_get_server_info(): A link to the server could not be established in
/home/bobswh5/public_html/wp-content/plugins/xml-google-maps/xmlgooglemaps_dbfunctions.php
on line
10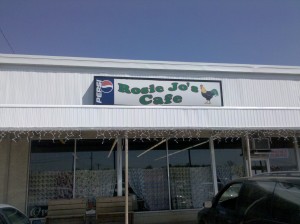 My sister-in-law who lives in Ozark suggested a visit to Rosie Jo's was in order.  I had some trepidation about trying another home-cooking style place after our recent experience at Patrick's in Nixa.  But, this is what I do, so Steve and I had lunch at Rosie Jo's this week – purposely leaving out Danny as we were pretty sure he wouldn't want to go after the pie incident at Patrick's.
We arrived around 11:30 and settled in – the lunch/dinner menu looks just like most other home-style places featuring the standard comfort foods like burgers & sandwiches, fried chicken, catfish, shrimp, roast beef, meatloaf, liver & onions, etc…  There is also a daily special – on the Monday we visited it featured all you can eat fried chicken with our server indicating that it takes about 20 minutes as they fry the chicken to order.
We ordered an appetizer of onion rings to munch on.  For lunch I ordered the Hillbilly Steak with homemade fries and a cup of chili, Steve ordered the Chicken Fried Steak dinner with mashed potatoes and veg of the day (corn).
The onion rings quite good being thinly sliced and coated in a light & crispy batter.  While they didn't seem overly greasy – we did notice a good puddle of grease in the bottom of the basket as we were finishing up.
I've had a Hillbilly sandwich once before at Cedar's which was made with ground beef.  The Hillbilly at Rosie Jo's is a pounded beef tenderloin breaded and fried like 'chicken fried' steak.  It meat was pretty rectangular fitting the bun almost exactly – I'm not sure how they do that.  It was fried to a nice golden brown and the batter was seasoned well.  The Hillbilly didn't come with mayo or any other dressing – just the relish – so I thought it was a bit dry by itself.  The sandwich was served with some 'spicy' relish that wasn't particularly spicy but I thought it was good and went well with the sandwich.  I liked the sandwich but I think some mayo would have made the sandwich a bit better.
The fries were a disappointment.  They are fresh-cut and only fried once and therefore suffer from the 'fresh-cut sogginess' – nothing crisp about these.  I only ate a couple.  The chili was pretty good – not spicy but with a good flavor and nice and chunky with meat & beans.
Steve said he enjoyed his meal and said that things were a big step up in the flavor department when compared to Patrick's.  The steak took over almost all of the plate, leaving just the edges for the corn and mashed potatoes (which were real by the way).  I had a taste of the steak and thought it had a bit of 'mystery meat' taste which I'm not sure I cared for.  Steve called it a liverish taste and that he liked it.  I don't think I could have eaten the whole thing if it tasted like that all the way through.
When we were looking at the menu, I was considering a burger for lunch instead of the Hillbilly – but had this vision of a frozen patty on a bun and didn't want to go there.  But while we were eating we started seeing burgers coming out to other tables and they looked really good.  The patties were thick and looked juicy – I would like to try one if I make it back.
So, at this point – I had eaten a good bit of onion rings, a cup of chili, a large Hillbilly sandwich and a few fries.  I was pretty full – but the pie menu beckoned with the promise of "Made from scratch PIES!!!"   Our last attempt at pie was unsuccessful and we were hoping given the rest of our meal that we would find a pie here worthy of eating.
Not all of the advertised pies were available on our visit.  I picked apple, Steve picked chocolate.  The apple pie was a good solid specimen with a tasty homemade crust and a not-too-sweet apple filling.  The chocolate pie had a meringue topping instead of whipped cream and Steve had and issue with the 'rubberyness' of the meringue.  I had a small taste of the chocolate filling and thought it was ok – but not really exciting.
Prices at Rosie Jo's are attractive with dinners all around 8 bucks.  You can get the burger with chips for $2.99.  I think the daily specials are also around 8 bucks and most are AYCE.
Service was good.  My Diet Coke refills were prompt and we were checked on frequently.
The dining room is pretty large and there are 3 levels to the room.  The décor is what I would call countrified 'Rooster' with rooster stuff everywhere you look.  The dining room was also nice & bright due to the large windows out front.  The restroom was clean.
I considered our outing to Rosie Jo's Café a success especially compared with our last visit to this type of place.   We got country-style home cooking food that was seasoned and cooked well.  While I didn't like the fries or the taste of the chicken fried steak – there is enough promise here to make me want to go back.
915 W Jackson (MO 14), Ozark –  (417) 581-6047