Warning
: mysql_get_server_info(): Access denied for user ''@'localhost' (using password: NO) in
/home/bobswh5/public_html/wp-content/plugins/xml-google-maps/xmlgooglemaps_dbfunctions.php
on line
10
Warning
: mysql_get_server_info(): A link to the server could not be established in
/home/bobswh5/public_html/wp-content/plugins/xml-google-maps/xmlgooglemaps_dbfunctions.php
on line
10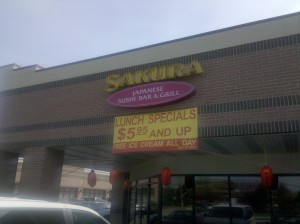 I drive by Sakura frequently on my travels along South National and it's been on my list to visit for a while.  I recently noticed a large banner out front advertising lunch specials for $5.95 and up along with FREE ice-cream all day.  Well today was my weekly lunch outing with Steve and Danny and I decided Sakura would fit the bill.
We arrived a bit before 11:30 and there were already a few tables occupied.  The lunch special consists of bento box selections.  We were also provided with a sushi order form.  Steve wanted to try some sushi & nigiri so he studied long and hard and finally decided on a spicy tuna roll, a 'Pink Lady' roll and a couple of nigiri items (which I can't remember).
For our lunch entrées Steve and I both picked the Sakura Fish bento box ($6.95) and Danny picked the Beef Teriyaki bento box ($5.95).  The bento boxes come with a bowl of miso soup which was just ok – it had a few pieces of tofu in it and some green seaweed.
The sushi rolls were decent.  Each of the spicy tuna roll pieces was topped with some nice spicy dressing – I thought they tasted pretty good.  I wasn't sure if I'd like the "Pink Lady" roll as the main protein was shrimp, but I was pleasantly surprised.  It was wrapped in some sort of pink wrapping that I couldn't identify and had a nice delicate sweet flavor.  I liked that one as well.  I didn't try any of the nigri so can't comment about that.
The bento boxes themselves were pretty substantial for the price.  Included in the box were a good bit of the fried fish chunks, 2 pieces of California roll, a small fried spring roll, some tempura veggies (carrots & zucchini), a small salad with that creamy Asian dressing and a scoop of white rice.  The salad was fresh.  The veggies were good & crispy.  The spring roll didn't do much for me.  I liked the fish fried with tempura batter – it was crispy and not at all fishy tasting.  The fish is served with a side of sweet & sour sauce which I used on about ½ of the fish pieces.
I tried a piece of Danny's beef teriyaki and thought that it was kind of boring.  The teriyaki sauce was just a coating on the outside and once that was gone – you were left with just a plain beef taste in your mouth.  I liked the fish a lot better.
The dining room at Sakura is a smallish place, narrow but deep.  There is a 'take your shoes' off area towards the back for larger groups to eat.  The décor is sort of homey with a mix of tables & booths with Japanese lanterns hanging here and there.
The sushi bar is along one wall and you can watch the sushi assembly process from most of the restaurant.  The restroom was clean.
Service on our visit was not stellar with our server not making it by our table very often.  My Diet Coke glass sat drained a couple of times before someone noticed and asked if I wanted a refill.  Steve and I got our bento box about the same time, but Danny's was several minutes behind ours.  It was after our bento boxes arrived that I noticed that chop sticks were the only utensils provided.  I get frustrated trying to use those things and it took a couple of minutes to get the attention of our server to ask for a fork.  Our server was friendly though.
I think the highlight of the meal may have been the FREE ice cream.  I was sort of expecting a soft serve machine in the corner like you would find at a Chinese buffet – but that was not the case.  Our server said we could have our choice of the following flavors:  vanilla, mango, green tea and red bean.  We all looked at each other and said "Wow" – those being very interesting choices.  We skipped the vanilla and each of us selected one of the other 3 flavors to share.  The mango was nice and fruity – with a good mango-ey flavor.  The green tea was sweet – and Danny described it as being, well, tea-ey.  For the red bean I had this vision of kidney beans swimming in the ice cream – or maybe a cross between chili and ice cream.  Fortunately that wasn't the case – the red bean was sweet and had a nice flavor that is really hard to describe.  Oh, it did have a few bits of what must have been red beans in it.
As regular Japanese restaurants go in this town (not counting the Japanese Steakhouse Style) – I would say that Sakura is middle of the pack.  I liked the feel of the place but I've had better sushi and bento boxes at other places.  That said I thought the lunch prices are very reasonable.  The service issue was a bummer – I hope that was a one time deal.  I'll probably try dinner sometime with my wife and give it another try.  If I do, I'll update you on how that goes.
3230 S National Ave – (417) 882-8000