Warning
: mysql_get_server_info(): Access denied for user ''@'localhost' (using password: NO) in
/home/bobswh5/public_html/wp-content/plugins/xml-google-maps/xmlgooglemaps_dbfunctions.php
on line
10
Warning
: mysql_get_server_info(): A link to the server could not be established in
/home/bobswh5/public_html/wp-content/plugins/xml-google-maps/xmlgooglemaps_dbfunctions.php
on line
10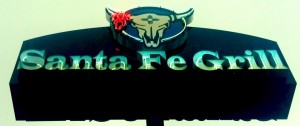 As I'm writing this, I'm feasting on my leftover Carnitas Enchiladas.  Savoring the smoky flavor from the enchilada sauce and the cilantro infused sour cream on top.  Yeah, Springfield, we have a new Mexican joint in town and if my dinner from the other night (as well as my leftovers for lunch today) is any indication, we now have a place to get Mexican food that is a step up from the many other 'standard' choices here in town.
My wife and I were hungry for Mexican on Monday night and after finding that our close-to-home Mexican place (La Fiesta Grill) had closed, we ended up at the new Santa Fe Grill on east Sunshine.  Pulling into the quite crowded-for-a-Monday-night parking lot and finding a spot around back we eased into the front door and were surprised to see a very nice restaurant and bar has appeared in this spot which has been vacant for a while.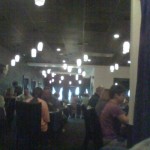 The décor is not Mexican.  The color scheme is a modern black and white with an up-scale feel.  There is a mix of regular and banquette-style tables.  There are quite a few tables in the place and some are set pretty close together – some (including the one we were seated at) a bit too close for my need of personal space.  (Sorry about the picture, it was too busy to get a better candid shot).
The menu consists of 3 separate laminated pages that are clipped to a wooden clipboard which I found a bit hard to manage.  I was also a bit confused at first as I only got 2 of the 3 menu pages but our server rectified that.  I tried to get a to-go menu to post but they were out.  I settled on the Carnitas Enchiladas ($10) and my wife chose the Vato Loco ($11).  The Vato Loco is kind of a burrito with a vegetarian filling – you can add meat to it, but my wife chose to stick with just the veggies.
Our server offered us some posole.  My wife took them up on it and received a small bowl.  She didn't realize that it had hominy and didn't think she would like it, but ended up eating the whole bowl saying it was very good.  We also received a bowl of chips (good but average) and the two styles of table salsa (had to ask for the hotter one).  Both salsa's were great!  They were chunky with a really bright, fresh taste and even some corn tossed in – what a nice change from almost everywhere else in town.
Santa Fe Grill also has a unique-to-Springfield concept – the guacamole bar.  You can think if it kind of like a sushi bar but for guac.   They offer 2 'standard' styles – Santa Fe ($8) with cilantro, tomato, garlic, green chili and lime juice – Rio Grande ($9) with cumin, coriander, corn, lime juice, red chili, tomato and roasted garlic – or – Create your own (price is $8, $11 or $15 depending on how many avocados you want) which has a list of about a dozen ingredients to tick the boxes of.  We opted not to try the guacamole on this trip but I'm certain we will next time we go.
Our meals arrived on trendy rectangular plates and they looked really good.  On top of both was a dollop of cilantro infused sour cream that ended up being a very nice flavor addition.  I think they may have used the same base sauce for both the burrito and the enchilada as they both had a wonderful smoky taste.  My enchilada was stuffed with cheese, potato cubes, corn and some other stuff – the meat was only on top. The carnitas on top was really more like pulled pork than true twice cooked carnitas, but it was still very good.  My wife reported that she also really liked her Vato Loco and liked it even more last night when she had the leftovers for dinner.
I was so pleased by the food that I just now realized that there weren't any beans or rice on the plates.  Between the really good salsa and the excellent flavors of the entrées I didn't miss having those extras.
Service was pretty good during our visit until right at the end when we noticed we were kept waiting for our check to be delivered and then returned.
There is also a full bar so you can enjoy your favorite Mexican beer or cocktail.
When we want really good Mexican food we usually have to road trip to Branson Landing and get our fix at Cantina Laredo.   Based on our first meal at Santa Fe Grill – we may not have to travel near as far in the future.  I'll post updates (and hopefully a menu) after our next visit.
3120 E. Sunshine – (417) 315-8745
Facebook