Warning
: mysql_get_server_info(): Access denied for user ''@'localhost' (using password: NO) in
/home/bobswh5/public_html/wp-content/plugins/xml-google-maps/xmlgooglemaps_dbfunctions.php
on line
10
Warning
: mysql_get_server_info(): A link to the server could not be established in
/home/bobswh5/public_html/wp-content/plugins/xml-google-maps/xmlgooglemaps_dbfunctions.php
on line
10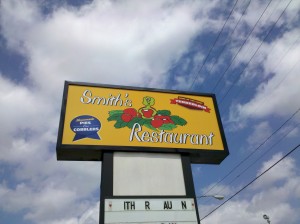 I got really excited when I heard that Smith's Restaurant was opening a location in Springfield.  For those that don't know, Smith's original location is located in the small town of Collin's Missouri located some 20 miles north of Bolivar on Highway 13.   Smith's in Collins over the years has become a favorite place of mine to stop for a great home cook'n meal on the way to and from Kansas City.  Their claim to fame is a giant pork tenderloin sandwich which is the biggest and best I've ever seen or had.  The tenderloin is so big, they also offer a ½ size which is about the size of other place's regular sized sandwich.  Smith's is also a favorite for their ham, beans and cornbread along with home-made pies & cobblers.  It was always a special treat to stop for some home cook'n food.  It was also a popular place with the parking lot would getting quite full during lunch and dinner.
This popularity led to the opening of another location in Bolivar some years back.  I had a chance to visit that location once and found the same satisfying food.  The Bolivar location is more modern and that home-town diner charm is lost somewhat.
This all leads me to my recent visit to the new Springfield location.  My lunch partner on this trip was my mother-in-law who was looking forward to some beans and ham.  When we arrived about 12:45 the parking lot was pretty full.  Turning into the parking lot was a bit of a challenge crossing Glenstone, but we finally made it and ended up with a slot out front.
Once we got in the door, the first thing we noticed was the mob of people in the little reception area.  At first I wondered if we should go somewhere else as I didn't really want to wait a long time for a table, but upon further investigation, these people weren't waiting to get in – rather they were waiting to get out.  See, Smith's is a pay at the door as you leave kind of place.  I would estimate at least 20 people were in line to pay and leave when we arrived.  The line snaked through the reception area, down the hall and into the dining room.  Since it was 12:45 I suppose there were one or more groups heading back to work and everyone had a separate check.  It was a Friday.
Anyway, once we found the hostess, we were seated immediately in a booth and started looking over the menu.  Of course, I knew what I was going to order – yes, the ½ tenderloin $6.99.  There were two special's on the day of our visit, an all-you-can eat fried chicken buffet for $8.99 or a meatloaf dinner also for $8.99.  Ham and beans weren't on the menu which bummed my mother-in-law out.  Turns out the H&B is a special available only on Tuesdays.  She ended up also ordering the ½ tenderloin.  The sandwiches come with your choice of fries or slaw.  I wanted to try both so I ordered the slaw as an extra side.
Our meals came out very quickly and I noticed that my tenderloin was a quite a bit smaller in size than my mother-in-laws.  I think she ended up with the full tenderloin by mistake – but I remedied that by switching with her.   The ½ tenderloin is still a pretty big sandwich with the meat spilling over the sides of the bun.  I typically cut the meat in half then stack what are now 2 meat patties back on the bun for a double-decker.  It was during this process that I noticed the first problem.  The tenderloin was just warm – nowhere near the temperature expected for a freshly made sandwich.  The other sandwich had the same issue.  The taste of the tenderloin was good but it would have been so much better had it been hot.  The fries also suffered from this temperature problem – with them being just warm and soggy.  I think I would have liked the fries had they been hot and crispy.  My theory is that there were a bunch of fries & tenderloins made up ahead of time and set under a heat lamp – then plopped on a bun/dish when they were ordered.  The quickness of the delivery would seem to support that theory.  I was bummed.
The slaw was interesting.  It was sort of yellowish/greenish in color and soupy.  It didn't look very appetizing and I seem to remember this same thing from the Collin's location.  The taste however was good and on the sweet side.  I asked if the slaw was always that way and our server said yes.  If this were served in one of them fancy eat'n places, they would call it a cold sweet cabbage soup and probably charge $5 for it.  I would prefer it not having so much dressing.
Wanting to try desert, I ordered a serving of blackberry cobbler and my mother-in-law ordered a slice of coconut cream pie – both to go.  When I had the cobbler later that night I thought there was way more blackberry goo than actual blackberry's in the serving I received.  At least the crust was good.  My mother-in-law said she didn't like the CC pie saying it had way too much whipped cream and the filling was too sweet.
Service was pretty good during our visit except for what seemed like a pretty long wait for our server to show up the first time.  The glasses used for soda and tea are large, so I only needed one refill on my diet coke.
This particular building has been home to at least a Mexican place, an Asian place and most recently a Ziggy's location.  The décor has been countrified with old barnwood and antiques adorning the walls and ceilings.  There is a mix of booths and tables and the dining area is separated into several sections.  There are also 2 party rooms available for groups.
As I mentioned above, there is a major traffic flow problem with the reception area.  When I checked out there were 5 people in line.  It is just too small to serve as a check out and check in area and it gets very crowded.  – They should rethink that.  One should also take seriously the little sign on the front door asking you to watch your step – there is a lip on the front door's threshold that you will trip over if you aren't paying full attention.
Overall, I was disappointed.  I may have had unrealistically high expectations, but the sandwich was a letdown.  Also, I would be angry if I had to wait in a line of 20 people to check out.  I do intend to go back and try it again and hope that the tenderloin failure on this visit was a fluke.  But as I've wondered in the past about other places, why does it always seem to happen to me?
935 N. Glenstone Ave – (417) 832-0255
Link to Website (with menu)