Warning
: mysql_get_server_info(): Access denied for user ''@'localhost' (using password: NO) in
/home/bobswh5/public_html/wp-content/plugins/xml-google-maps/xmlgooglemaps_dbfunctions.php
on line
10
Warning
: mysql_get_server_info(): A link to the server could not be established in
/home/bobswh5/public_html/wp-content/plugins/xml-google-maps/xmlgooglemaps_dbfunctions.php
on line
10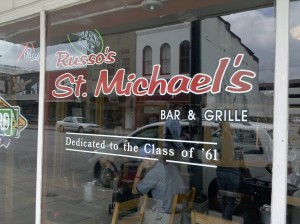 I finally made it downtown to St. Michael's for lunch last week.  My companions for this visit were friends Steve and Kelly.  Kelly is a downtown groupie and ended up being our ordering guide.
The menu at St. Michael's is Italian influenced with pasta's, salads, sandwiches and burgers.  The special of the day on the sidewalk chalkboard caught my eye – an eggplant parmesan sub.  I pretty much decided that's what I wanted before looking at the menu.  The special came with a side and I chose the Italian wedding soup at Kelly's urging.  Steve ordered the cheese lasagna and soup and Kelly just had the soup saying something about needing to eat light.
Kelly's been talking up the Italian wedding soup for quite a while and I must say it was a winner.  The broth had a great flavor.  Goodies swimming around inside the broth were tiny pasta tubes, carrots, 3 meatballs and some fresh greens tossed on top.  The meatballs were just ok – I don't think they were homemade.  Overall this was a great soup and would make a great light lunch by itself when combined with the complimentary bread.
The eggplant parmesan sub was another winner.  Served on a toasted roll was a generous slab of golden fried eggplant topped with marinara and just the right amount of cheese.  The eggplant tasted great – as good as I've had anywhere.  The marinara tasted really fresh and was seasoned well.  After the soup, I only had room for ½ of the sandwich so was able to enjoy it all over again the next day.
Steve said his cheese lasagna was good.  When the lasagna came out it almost looked like a soup as they cover the lasagna with a good dose of that tasty marinara sauce.
Looking around at other tables I noticed a lot of salads being consumed out of large stainless steel bowls.  Kelly said that the salads at St. Michael's are very good and based on the number of bowls I saw – are indeed very popular.
Service was pretty good with my Diet Coke kept full most of the time – but Kelly is on a first name basis with everyone working here so we may have gotten a little extra attention from our server.
Located on the corner of South and McDaniel, the restaurant has you typical downtown setup – a deep narrow space with high ceilings.  School memorabilia lines the walls.  The restaurant is "Dedicated to the Class of '61" which I'm sure has a connection in some way with owner Nick Russo – just not sure what.  Perhaps someone will comment with more info on that.  The place also seems popular with the Roman Catholic clergy as I saw several priests lunching it up on our visit.
Overall, I'm sad….  Sad that it took me so long to try St. Michael's.  I really enjoyed my meal and I'm going to arrange another trip soon with my wife so she can try one of those salads and I can try a burger – unless of course the eggplant parmesan sub is available again.
301 South Avenue – (417) 865-2315