Warning
: mysql_get_server_info(): Access denied for user ''@'localhost' (using password: NO) in
/home/bobswh5/public_html/wp-content/plugins/xml-google-maps/xmlgooglemaps_dbfunctions.php
on line
10
Warning
: mysql_get_server_info(): A link to the server could not be established in
/home/bobswh5/public_html/wp-content/plugins/xml-google-maps/xmlgooglemaps_dbfunctions.php
on line
10
Today my wife and dropped by The Buzz for lunch.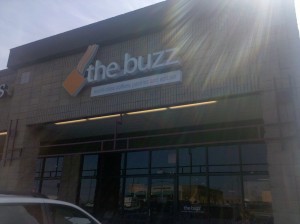 The Buzz is a newish coffeehouse/restaurant in a strip mall on Republic Road just west of the intersection with Fremont.  We arrived right about noon and there were already lots of cars in the lot out front.   When we walked in the door the place was pretty full with only three 2 person tables left for seating – we grabbed one and took a look at the menu posted over the ordering counter.
The menu consists of breakfast items (starting at 7am), sandwiches, soups and salads – oh yeah – they have coffee too.   On this day, my wife chose the spinach & chicken quiche with a side of fruit ($5) and I selected the curry chicken salad sandwich that comes with chips ($5.99).  There are also combos available where you can mix & match salad, sandwiches and soup for $6.99.
We had to wait for about 20 minutes for our food.  I could tell the kitchen was working hard to keep up as food was coming out at a good clip.   There were just a lot of people ahead of us.
Once our food arrived we dug in.  My wife said that the quiche was nice & fluffy and she said it was one of the best quiches she has ever had (and she really likes quiche).  The side of fruit was also very good – a good pile of nice, fresh cantaloupe, blueberries and strawberries.
My curry chicken salad was really good.  The curry gave it a nice sweet flavor.  The tender bites of chicken were mixed with raisins and cashews.  The dressing was nice and light.  It was served on soft wheat berry bread which
did a good job of containing the filling.  The first time I fell in love with curry chicken salad was in Washington D.C. at a little local deli near the zoo – this sandwich brought back a really good memory of that trip.  The chips served with the sandwich are home made and crispy and had a really good potato flavor – they were nearly as good as the chips at The Grotto.
I visited The Buzz one other time for a takeout Southwest Chicken sandwich on grilled flatbread.  I recall it was a good sandwich as well.
At The Buzz, you order at the counter and take a seat.  They will bring drinks (and refills) and the food to your table.  I was a little worried about running out of Diet Coke due to how busy the place was, but the server managed to keep up with me.
Sinc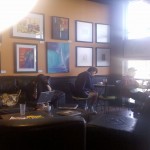 e the place was busy – it was also very loud and I found it a bit difficult to carry on a conversation – you could say there was a very loud 'Buzz' in the place (I know that was bad).   Our table was sort of right in the middle of the traffic pattern for people lining up at the counter to order and the server taking food around, so we didn't stick around very long after we were finished.  Like most coffee places, there is a small lounge area with a couch & chairs to hang out and drink your coffee while you read or surf the internet.
Hours are 7am to 3pm for the breakfast & lunch crowd.
Overall, we both really liked our lunch and sort of wished we had tried this place sooner.  I'll be back to get Buzzed again.
1360 E Republic Rd – (417) 881-4442