Warning
: mysql_get_server_info(): Access denied for user ''@'localhost' (using password: NO) in
/home/bobswh5/public_html/wp-content/plugins/xml-google-maps/xmlgooglemaps_dbfunctions.php
on line
10
Warning
: mysql_get_server_info(): A link to the server could not be established in
/home/bobswh5/public_html/wp-content/plugins/xml-google-maps/xmlgooglemaps_dbfunctions.php
on line
10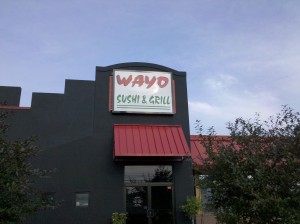 Wayo opened up on South Glenstone in the spot formerly occupied by Beano (and Burger King before that) earlier this year.  The week it opened I made a visit with my brother and his family and decided against doing a review at that time as they were obviously working out many kinks.
I drive past Wayo almost every day and have wanted to try it again.  A gift of a $15 off coupon from a friend pushed me to make a dinner trip with my wife and niece (hungry college student) recently.
Our visit was on a Monday evening.  When we arrived there was one other table occupied.  We sat at one of the regular tables because I thought the closed-in booths looked sort of creepy.
The dinner menu at Wayo is pretty simple.  You can get Teriyaki, Bento Boxes, Sashima/Sushi (chef's choice on those), Tempura, Noodles as well as something called Katsu – pork or chicken breaded & fried.  Most dinners come with soup, salad and rice.  On my first visit both my brother and I got the 'Spicy Chicken' Teriyaki ($12.95) and found it to be almost too hot to eat (especially when you don't get your drink refilled).  I'm not sure if that is the standard preparation, but on that night it was – it was very hard to enjoy.
So, staying away from the Spicy Chicken, I decided to go for the Bento Box ($13.95).  For the Bento Boxes, there are 10 entrée items to choose from and you can pick 2.  I chose the Teriyaki beef & spicy tuna roll for my box.  My wife ordered the Soba noodles with Chicken ($8.95) as she really liked the noodles on our first visit.  My niece decided on the Shrimp Teriyaki dinner ($13.95) which is her default meal at most any Japanese restaurant.
We all got miso soup to start our meals, but the soup arrived just a few minutes before our entrées (more on that later).  I thought the soup was ok.  We never got the promised salads.
When our entrées appeared I was pretty happy to see my Bento box.  Bento boxes are fun and I like the compartments each filled with individual goodies.  This evening I received 8 smallish spicy tuna rolls topped with a spicy sauce, a nice portion of the teriyaki steak & veggies, 2 crab (or maybe krab) rangoons, a selection of tempura vegetables and some fruit.
The rolls were ok but not very spicy without the added kick from some wasabi.  I liked the teriyaki beef.  It had a very good flavor and the grilled veggies were all fresh and tasty.  The tempura vegetables were also pretty good and even included a fried asparagus spear, but they were just a bit on the greasy side.  The rangoons weren't anything special.  The fruit (apple, melon & orange) was a nice touch – and the orange was artistically cut which was fun.  There was a good amount of food in the box and overall I liked it a lot.
My wife said she liked the Soba noodles & chicken.  There were lots of nice fresh veggies and everything was well cooked.  My niece also liked her meal of Shrimp Teriyaki.  So overall we were very pleased with our meals.
Service was a big, big issue on our first visit and unfortunately it was still an issue on this visit.  There was one server working on this particular evening.  I think there were, at the most, 4 tables occupied at any one point during our visit – which I didn't think would be too challenging.  But obviously it was – we waited a lot for just about every part of our meal.  It took a long time before we were asked for our drink orders.  It took a long time before we got our food orders taken.  We never got our salads, the soup arrived 2 minutes before our entrees.  Refills were few (good thing I didn't do the spicy chicken!).  And it took a really long time after we were done to get our check.  It was just a frustrating experience.
The chef made it by at one point to check on us.  I met him on our first visit and we liked him a lot.  On that first visit, we got some freebies during the meal, probably because my 5 year old nephew was with us that time.  We got a sampling of noodles and some yummy fried bananas at the end of the meal.  No freebies on this last visit though.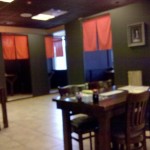 As far as décor goes, they did a pretty good job of removing the fast-food aura of the place.  The color scheme is black & red.  There are enclosed booths lining the outer walls which require a small step up and a twist to the side to get into them.  They have some red curtains covering the upper part of the opening.  The seats in the boots are hard-looking benches.  I don't think I would like eating in one of the booths as they look a little 'Munster-ish'.  The sushi bar is located in the 'lobby' just inside the doors and you can sit there, order & watch your sushi being made.  The restroom was clean.
The food at Wayo was really pretty good and I liked being able to get a Bento box at dinner time as most Japanese places make that a lunch-only choice.  The service issues are likely to keep me from coming back though – it was very frustrating.
Wayo is open really late (1am) on most nights and have drink & sushi specials for the late night crowd.  I hope someone comments about what late-night at Wayo is like and perhaps let us know how the sushi & sashimi are as we really didn't go there on this last visit.
2119 S. Glenstone – (417) 886-0300