Warning
: mysql_get_server_info(): Access denied for user ''@'localhost' (using password: NO) in
/home/bobswh5/public_html/wp-content/plugins/xml-google-maps/xmlgooglemaps_dbfunctions.php
on line
10
Warning
: mysql_get_server_info(): A link to the server could not be established in
/home/bobswh5/public_html/wp-content/plugins/xml-google-maps/xmlgooglemaps_dbfunctions.php
on line
10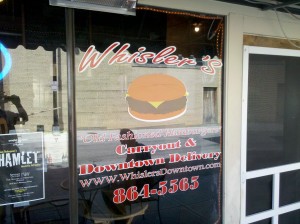 I've wanted to try Whisler's ever since my nephew showed me a picture of the eight-decker cheeseburger he ordered there.  In the picture, there were 8 burger patties, 8 pieces of cheese and 8 pieces of bacon – enclosed within a bun and held together with a wooden spear.  Well, an opportunity presented itself recently and I made a lunch trip downtown with friend Steve to check them out.
We arrived around 11:30 and there was just one other person in line when we got there.  We looked over the menu and then struck up a conversation with the person running the place.  We told him we were new and asked what we needed to know.  He replied you can have anything you want as long as it is a burger.  Burgers (and shakes) is all they do here.  There are 6 types of burgers on the menu including a turkey and veggie (Bocca patty) burger.  The variations are mainly add-ons like ham and bacon with cheese tacking on 15 cents per slice.  There is also a lunch deal for $4.60 which includes 2 cheese burgers, chips and a drink.  The lunch deal is what Steve and I opted for – but we did do an upgrade with Steve getting a Pig & Bull (add ham slice) and I got a Sow & Cow (add bacon).
Our burgers were cooked to order on the single grill and then delivered to us in an unassuming paper bag.  What we found in the bag were two smallish burgers.  They aren't what I would call sliders – I think the patties may be a bit bigger than that but not by much.  The meat to bun ratio is just about perfect on these little guys though.  Each bite had a nice mix of meat, cheese and bacon/ham.  You could taste the meat and I think it was a pretty good quality ground beef.  The patties were also cooked nicely with nice browned edges.  Since they were smallish, I wasn't stuffed after eating two of them with a bag of chips, but that meant that I did have room to squeeze in some Gelato Mio afterwards.  Without the gelato – I think an order of 3 or 4 would make a more substantial meal – and Whisler's will accommodate by selling you burgers 5 at a time for $6.25.
There was one issue both Steve and I agreed on that would have made the burgers even better – a toasted bun.  We asked about that while getting some drink refills and the cook said that if it isn't too busy he will generally toast the bun – next time I'll be sure to ask for that.
The eight-decker my nephew got was obviously a special order as it isn't on the menu – but I get the feeling that as long as it is a burger the folks at Whisler's will try their darndest to please.
Chips and drinks are self-serve.  Seating is very limited with 2 tables inside and 2 tables outside.  It was a nice day when we were visiting so we sat outside.  The sidewalk tables would have been great had there not been a Banta food truck parked idling across the street making it hard to have a conversation.
Overall – Whisler's is one of those places that is just kind of neat to go to.  The prices are reasonable and the burgers are good.  I'll be back.
208 West McDaniel – (417) 864-5565